Community organizers share struggles and successes in reducing gas-powered leaf blower noise
You know the sound — a noisy leaf blower revving and roaming in your neighborhood. Many of us experience it daily: on weekend mornings when we're trying to sleep or while we're on a conference call on weekdays. It revs and subsides, gets louder and closer, and disrupts the soundscape with a chainsaw-like blast. And with many of us working from home in 2020, the noise is more acute than ever before.
Community activism
In the past few years, some communities passed legislation to restrict the use of gas-powered leaf blowers, which are the biggest offenders. Gas-powered leaf blower models are louder and more polluting than their electric cousins. But in the United States, they're also more dominant.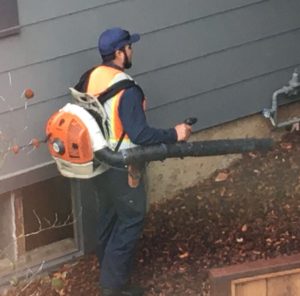 In episode 18 of Soundproofist, we talk with two leaders from Quiet Communities, a nonprofit organization. This organization encompasses four related programs: Jamie Banks is the director of Quiet Outdoors. They partner with other organizations (like the American Green Zone Alliance) to help transition communities to eco-friendly landscaping practices and tools. And David Sykes is the Executive Chair of Quiet Healthcare. This group works with the healthcare industry and local governments to set guidelines for vibration and noise in healthcare facilities.
In this podcast, you'll learn more about Quiet Communities. They discuss how they help to educate communities about health-related issues and lawn equipment, train workers for new technologies, and change policy. If you're interested in leading a similar effort in your own city, contact Quiet Communities.
Learn more:
American Green Zone Alliance — "AGZA educates about the impact issues of current lawn and garden operations. We train and certify work crews on the safe and efficient implementation of the latest battery electric equipment."
"Get off my lawn" – James Fallows describes his (successful) efforts to enact change in Washington, D.C., The Atlantic
"Leafblowers are not only annoying, but also bad for you (and the environment)" — Alexandra Micu, ZME Science
"Why do we put up with the ear-splitting obnoxiousness of leaf blowers?" — CBC Radio, Sunday Edition
"We know you love your leafblower, but it's ruining the neighborhood" — Adrian Higgins, Washington Post
"Leafblower Noise and its Consequences" — NoNoise.org
"How Stupid is Our Obsession with Lawns?" — Freakonomics podcast (2017)
"Seasonal Hazard for Working at Home: Leaf Blowers" — Valerie Bauerlein and Jon Kamp, Wall Street Journal
"The Devil's Hair Dryer – Hell is other people with leaf blowers" — David Dudley, CityLab
How to tame the leaf blower culture